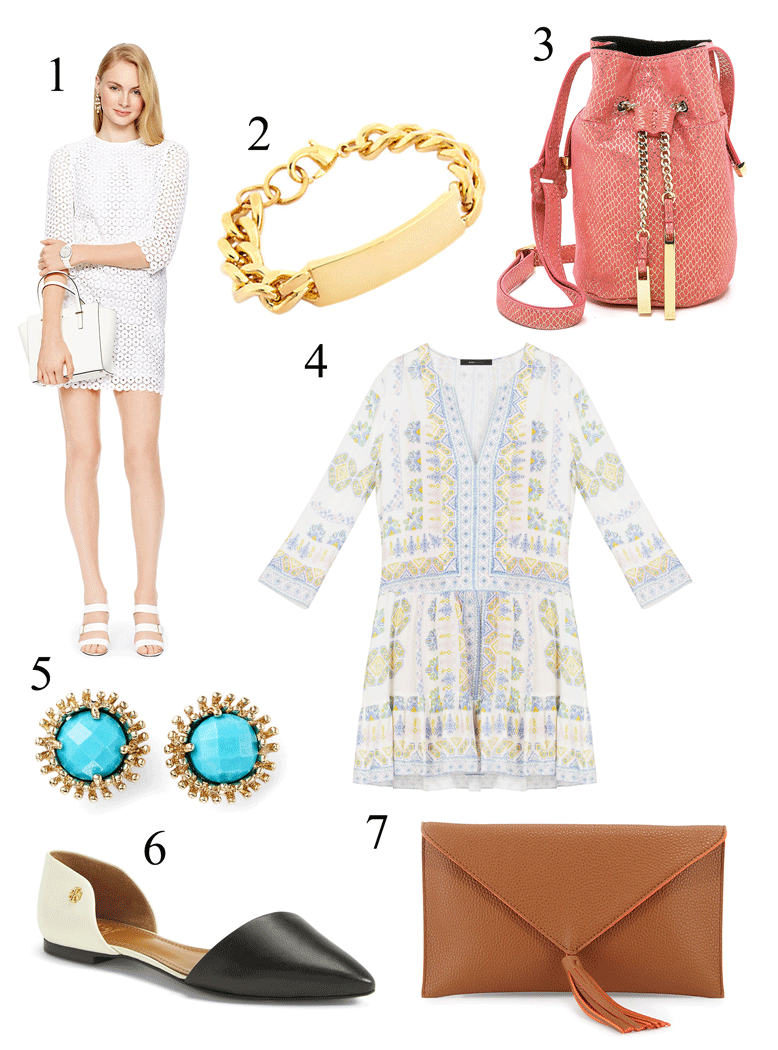 Click to Shop!
Happy weekend!  This was a wild week, so it's nice to finally have some time to lounge around.  My first full week blogging was a success, but there is definitely a learning curve.  The main things I discovered this week are 1.) Instagram is so weird (why do users repeatedly follow/unfollow?!), 2.) Google Analytics is addictive (hello Russian readers!).  Beyond those things, I've also been pleased to receive so much positive feedback and encouragement!  If ya'll ever have any questions, comments, even critiques, don't hesitate to email me!
Today's post is going to be another weekly regular.  Who doesn't love going into the weekend with some sweet sales?  Here's my little selection.
1.  This white lace Kate Spade dress is a must-have.  It's appropriate for so many different occasions, and everyone should have a great LWD in their wardrobe arsenal.  Through Sunday, you can get it 25% off with code DEAREST.
2.  An ID bracelet is the perfect addition to any arm party, and thanks to Barneys Warehouse, this one is a steal!  It's 18K gold plated and made by Ettika.  Warehouse is offering an extra 50% off all clearance, so this bracelet comes out to less than $30!
3.  I've been weary of the bucket bag phenomenon.  They just seem so bulky and awkward, however, this Halston Heritage take on the trend is gorgeous.  It's fairly petite, but the bucket design allows for plenty of room for all your necessities.  Also, it's coral, which is my favorite spring color. Shopbop has it on sale for 30% off!
4.  I've been feeling this whole flower-child-festival-style look as of late.  It's not a style I typically gravitate to, but this BCBG relaxed peasant dress has just the right amount of chic to keep you from looking like a Coachella castoff.  Their Friends & Family event I talked about the other day is still going on, 25% off all full price!
5.  Turquoise is such a spring/summer staple, and I pair it with everything come this time of year. These earrings are more reserved than what we typically see from Kendra Scott, but they still provide a pop of color to any outfit.  Nordstrom has them at 25% off, along with three other colors.
6.  D'Orsay flats have been everywhere as of late, but this Tory Burch pair is the best.  They also play into the black and white trend, so two birds one stone, ya'll.  They're 25% off at Nordstrom!
7.  This little envelope clutch from Neiman's Last Call is such a great basic.  I love how the orange piping adds just the right amount of color.  Right now, it's just $50.  Such a great pouch to take on nights out.
Emily