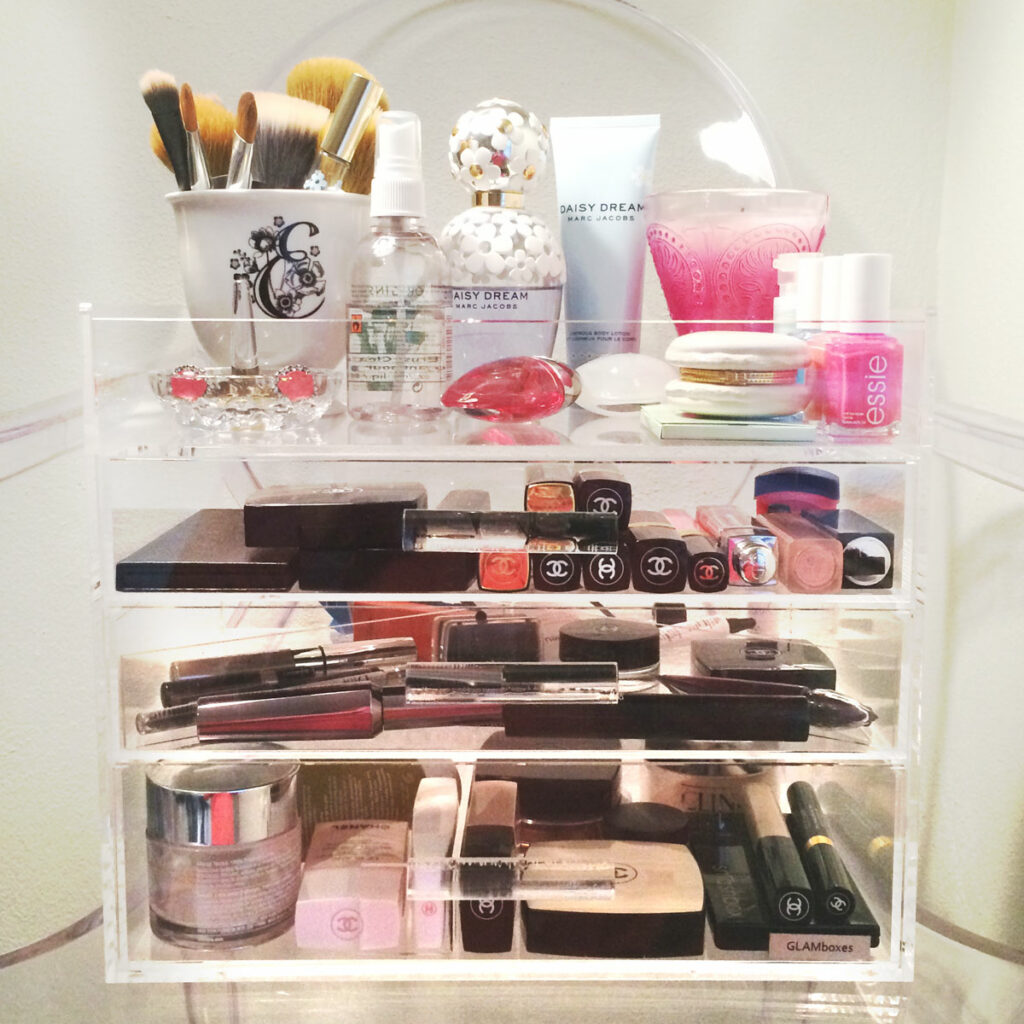 Hi, happy Monday! I hope y'all had a relaxing weekend! Today, I thought I'd share how I store all of my makeup/skincare products: GLAMboxes. If it looks familiar, that's because it's the same lucite organizer found in every Kardashian "glam room" ever. Never thought my girl Kim K and I would ever have too much in common, but look at that!
I've had mine for several months now, and I love it. The notion of ever going back to a normal makeup bag actually gives me anxiety. GLAMboxes are made of high quality acrylic lucite, so they're basically like a piece of furniture on your vanity. Each one comes with a sliding divider, an "x" divider, and a brush holder. You can choose between two sizes, and if you want a full or partial lid. I chose the full lid, but I like keeping perfumes and other little things on top, so the lid is folded behind. I've seen other organizers for a lot less, but nothing compares to the quality of a GLAMbox. I don't have to worry about it cracking or discoloring, plus it's just way more aesthetically pleasing than the plastic boxes on sale at Homegoods. Just being real, y'all. It's also pretty heavy, so when I pull out a drawer, I'm not dragging the entire thing across the counter. This is definitely something I saved for, and invested in, but it was worth every penny. I just got tired of constantly rifling through my makeup bag and eventually just dumping it all out. With a GLAMbox, everything is visible and everything has it's place. Their motto is "if you don't see it, you won't use it," and it's really true. I'm not a naturally super organized person, but this product makes me feel like I am. It's so refreshing to not have such a cluttered bathroom.
In addition to makeup organizers, they make jewelry and accessory organizers, too! I linked some in the widget below, via Shopbop. If you head to their website, however, they're currently running a Friends & Family sale! Use code "Friendsandfamily" to receive 20% off everything! GLAMboxes don't go on sale very often, so now is a great time to treat yourself, or someone else, as the holidays are approaching!
Emily