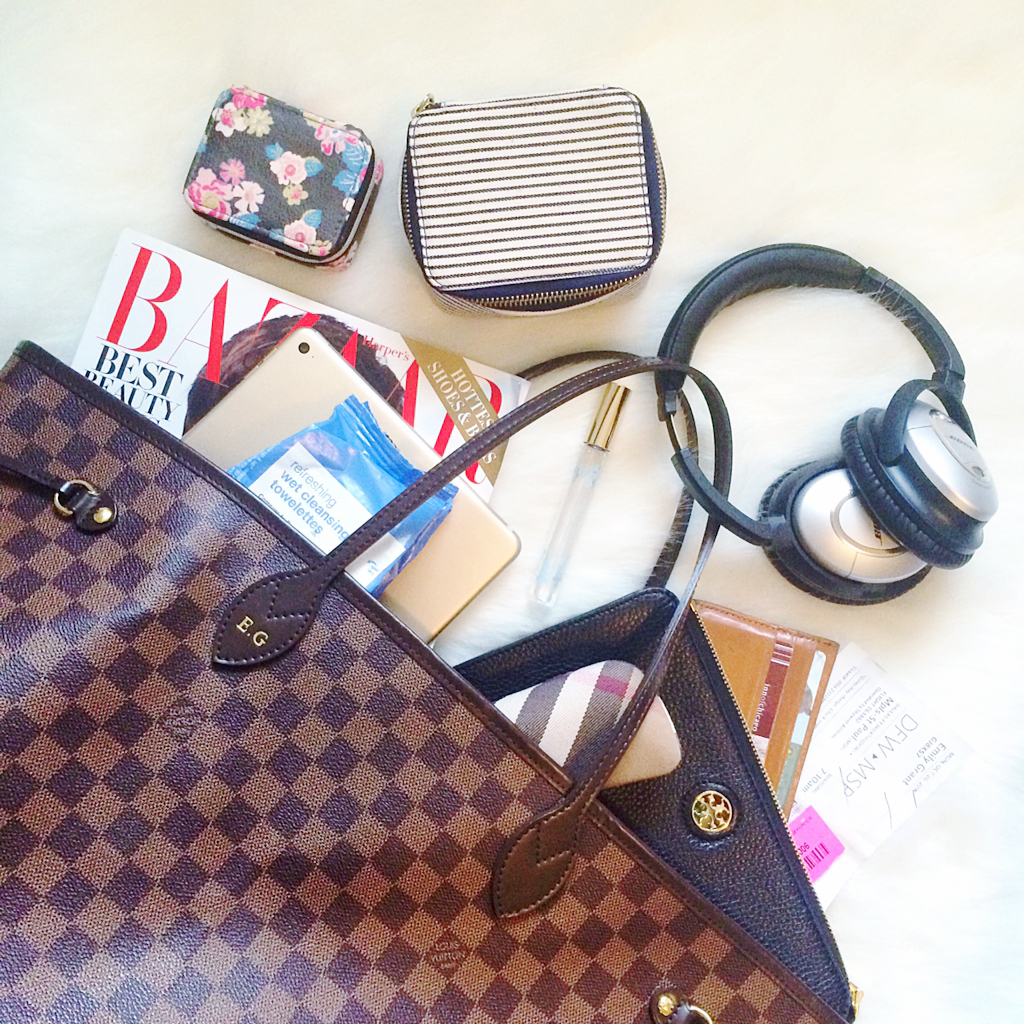 The weekend before last, I was fortunate enough to visit my alma mater, Baylor University, for homecoming. Some friends had amazing football tickets and it was just a great time sketching around all my old haunts. By "old haunts" I mean we basically went on a tour of Waco Mexican restaurants and it was delicious. Queso anyone? Side note: I don't care where you're from or where you've been, there's no place like Texas. It's God's country. Anyway, just from my two little trips in the past two months, as well as four years of being an out-of-state college student, I've definitely racked up some travel tips. I'm no expert, and I don't fly on a regular basis these days, but when I do, I'm ready to rock.
1. OVERPACK: Ok, not totally. You're not Mariah Carey posting up at the airport with $30,000 worth of Louis Vuitton luggage…but then again maybe you are, and in that case, get it girl. When I say overpack, I mean the necessities. Always bring a few more undies, bras, socks, etc, than you think you'll need. It also doesn't hurt to have a couple extra pairs of leggings/Nike shorts. Of course, it all depends on where you're going and the duration of the trip.
2. SAMPLE SIZES: This is a great way to save space in your makeup bag or the tiny sandwich bag for liquids at the airport. Get sample sizes of your foundation/primer/moisturizer, whatever! Just ask at your cosmetics counter and they'll make you a sample. Free foundation y'all! If for some reason the sales associate is weird about it, just ask for the little container and make your own.
3. VACUUM SEALED BAGS: Especially for a long trip, or if you're really overpacking, vacuum bags are a godsend. It was basically monsoon-ing the whole time we were in Waco, so rain boots were a must. My mom treated me to some new Hunters, but ya know that new-rainboot-smell? Yeah, I wasn't trying to mess with my whole suitcase giving off the aroma of new rubber. Instead, I squished them into an airtight plastic bag, saving both space and smells. It was also nice on the way back, since I'd been sloshing around puddles and such, everything was kept clean. Since we were staying with friends, and didn't want to be bigger mooches than we already were, we brought our own towels. They took up minimal space thanks to the bags. I have these, which don't actually require a vacuum!
4. BOSE QUIET COMFORT HEADPHONES: They're pricey, but if you have room in your budget, these Bose headphones are perfection. My boyfriend has a pair, so I typically use his, but I'm definitely saving up for my own. You just don't realize how insanely loud a plane is until you put them on and enjoy the sound of silence. They're really nice if you have anxiety about flying, they make the whole experience a hell of a lot calmer.
5. PILL BOX: Rather than carrying around prescription/vitamin bottles, I use a sectioned pill box as another means to save space! Nordstrom Rack always has them near the register, that's where I found mine! If you're carrying around controlled substances, keep 'em in the bottles with your name. Avoid being sketchy at the airport y'all, it's a good rule for life.
6. WET ONES: I always feel gross traveling. Until I have the time/place to officially freshen up, Wet Ones (or Purel) to the rescue! Makeup wipes are also really helpful, and I try to keep both in my carry-on. Also, it doesn't hurt to make sure deodorant and a rollerball of perfume are within reach!
7. CROSS BODY BAG: If my boarding pass, ID, passport, etc, aren't compartmentalized, they'll end up at the bottom of my Neverfull (which should really be called a Neverfindit). I recently picked up this Tory Burch cross body that basically has a built in wallet. It's small enough that I can just throw it in my bag once on the plane. Essentially, it's a little sneaky extra bag because officially, I count my tote as my purse, and have an additional rolling carry-on. It seems obvious, but it's just another easy way to keep everything together so I'm not rifling through my bag like a crazy person at the gate.
8. DUSTBAGS: They come with shoes, bags, and wallets, and let's be honest, they don't all get used. That said, put them to work separating clean laundry from dirty. Also, use them for the shoes and bags you're packing! Like the vacuum bags, they help keep everything orderly and protect against scuffs and scratches. If you're an responsible adult and actually use your dustbags at home, pick up these for your trip!
9. GATE-CHECK: Take advantage of this if you can. The notion of lugging my carry-on down the aisle and hoisting it into the overhead bin stresses me out. Not to mention, I'm just not that strong. I prefer to gate-check and pick my bag up either at baggage claim or the end of the jetway. Just one less thing to stress about. Or if you're really bougie, I suppose you could actually check a bag, but like who wants to pay for that? Not this girl.
10. ATTIRE: I know that back in the day, flying was an event, and you dressed for it. Times have definitely changed, and this ain't the Oscars, honey. It's acceptable to be more casual at the airport. My grandmother would cringe reading that, but casual doesn't have to mean sloppy. I typically go with some performance cotton Lululemons, easy on and off loafers, a soft tee, and a flannel. It's super comfortable but doesn't look like you're ready for bed in a big sorority tee. I also never wear eye makeup on the plane, because let's be real, I'm going to be doing some serious awkward napping and don't need eyeliner smeared all over my face. Lately, I've been getting spray tans pre-travel, so I don't really wear any in-flight makeup, come to think of it.
Some of these tips might seem obvious, but I hope you found some insight about streamlining your travel experience. On another note, if anyone has any advice on how to unpack after a trip, let me know…I may or may not still be living out of my suitcase from over a week ago…
Emily