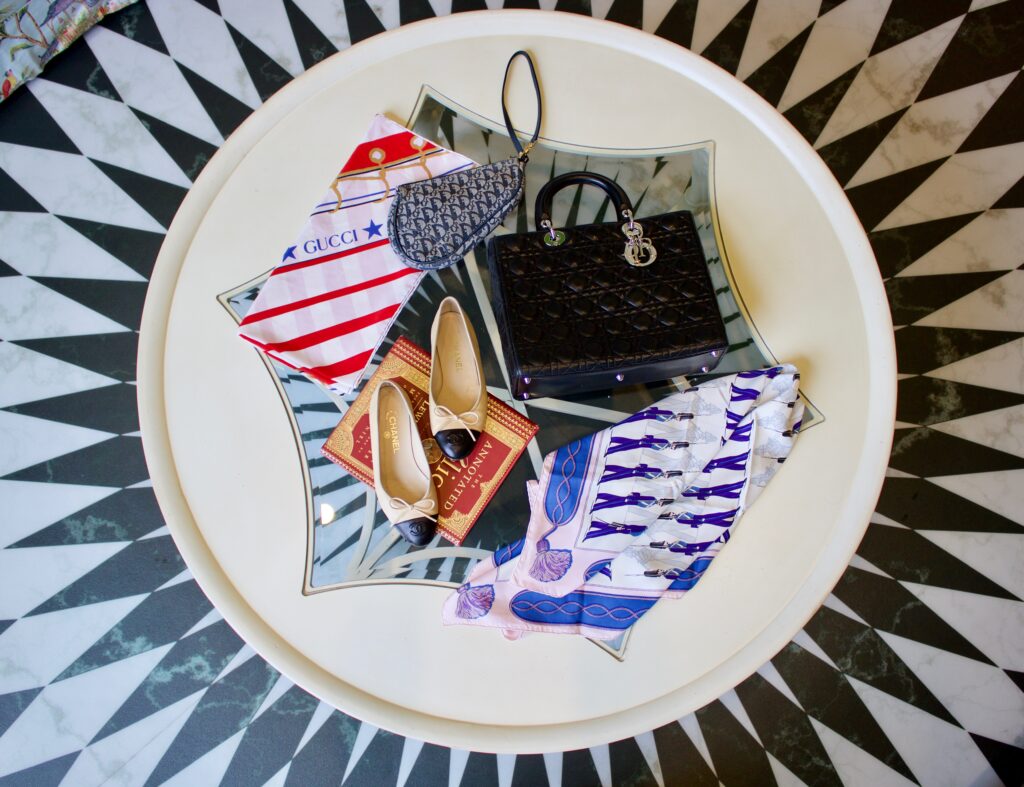 Lately, I've had the best luck. I absolutely love a good treasure hunt, so my mom and I routinely visit a few local consignment stores. I've found some incredible pieces that will probably remain in my collection forever. If you're from the Madison/Middleton area, I highly suggest you visit Simply Savvy, Collector's Corner, and Passementerie. Those are the places I've found most of the items I'm talking about below! So, without further ado, here are my most coveted luxury consignment finds…
Lady Dior Handbag – $1,100
Finding this near pristine, large Lady Dior was a thrill. It was in the back of a dusty, locked cabinet. According to the tag, it had been consigned for a while, apparently unnoticed. My mom offered cash and surprised me with it. It's from 2005 and in beautiful condition, no scuffs in the black lambskin or scratches on the shiny silver hardware. I'm almost scared to use it, I know the first little "blemish" will break my heart. I sometimes think about selling it (because a handbag probably shouldn't elicit such an emotional response), but I've always loved the Lady Dior. It's such an iconic bag and I still can't believe I have it in my collection.
Chanel Flats – $150
My mom spotted these flats during a rather difficult time in my life and they were a fantastic pick-me-up. We had recently put down our 16 year old miniature dachshund, Clara, and joked she sent these my way (edit: is this weird? oh well). For this reason, these black and tan beauts will always be special. I mean, finding Chanel is enough of a day maker, but especially a pair of their famous ballerinas in the right size. They came with the box and dust-bags and everything which was an added bonus.
Gucci Scarf – $3
When I found this scarf and unfurled it to reveal "G U C C I," I was ecstatic. When I saw the price, I basically blacked out. Kidding. Well, maybe not. Upon inspecting the label, edges, etc, I realized it was marked a mere $3. There's nothing like a good deal y'all and this one was the best. I love a good piece of silk, especially tied on a bag. This gorgeous nautical scarf had no snags or stains and has been well worth the price 😉
Dior Saddle Clutch – $60
I started obsessively buying vintage Dior items in the iconic trotter print a couple years ago. One of my fave Youtubers, Mel Soldera, inspired me. I got this little pouch off Poshmark for about $60. I recently saw the same thing listed for $1,300+ by What Goes Around Comes Around on Shopbop. As Dior continues to roll out new items in their classic print,  the price will continue to go up on vintage items. Look at me, making money on my investments. Jokes aside, this is a lovely nineties gem that I typically use as a catchall in larger handbags.
Hermès "La Parade" Scarf – $295
My boyfriend recently gifted me with this vintage scarf after I had surgery. It's a rare print, only made in 1966. The condition is so lovely, I imagine it neatly folded in the dresser drawer of a fancy grandma, unused. It has such bright, beautiful colors. I really want to frame it and make it the centerpiece of a room one day.
Do you have any amazing consignment finds?! I'd love to hear what they are below!
Emily