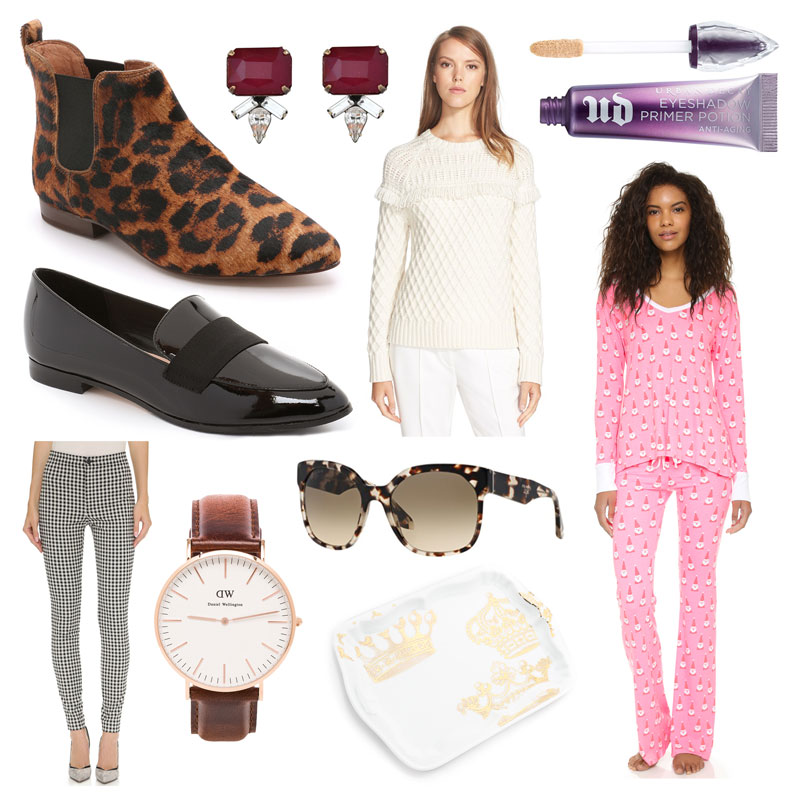 Click to Shop!
Hi! Today, I thought I'd share another #weeklywishlist because, well, I haven't done one in a while. Also, with the holidays justtt around the corner [eyeroll], my wishlist is getting quite lengthy.
Booties: I'm kind of on a bootie kick right now (wow that sounds like a Zumba move, I hate myself). I'm definitely gravitating towards a bootie/chelsea boot moreso than ballet flats these days. Maybe this means that for once in my life I can say I'm practical. I love leopard details, especially when peppered into an all black ensemble, it adds a pop of something while still being neutral. They're Madewell, but I was only able to find them at Shopbop. Sizes are dwindling, so I might need to just bite the bullet and snap them up.
Earrings: These Loren Hope statement studs are such a fun little addition for fall. I like how they pack a punch, but aren't giant boulders weighing down my head. Win-win if you ask me. Really though, I don't have a pair like them and that rich merlot color is just the best.
Sweater: Don't mind me, I'm just continuing my current obsession with cable-knit. Carry on.
Primer: This line-item is up for debate because I'm not quite sure what to look for in an eyeshadow primer. I just emerged from another decade, apparently, and don't have one. I've heard great things about this one, from Urban Decay, plus it has some anti-aging magic. If anyone has any other recommendations I'd love to hear them!
Loafers: If a ballet flat and a driving moc had a baby, it might kinda look like these little gems from Kate Spade. What more could I ask for?
PJs: I feel really aggressive wanting these Christmas-y pajamas, like yes – it's barely November, but think of all the lounging! Loungewear is important y'all, and how can you not love those little Santa gnomes? Also, this plaid pair is a must!
Pants: These Victoria Beckham pants are fabulous. I'm always a fan of gingham, especially in black and white. It's so chic and stands in a definite contrast to the classic picnic table print. I would love these topped by a chunky knit or all buttoned-up. Also here.
Watch: Not to be trendy, but I've been eyeing this Daniel Wellington watch for a while now. Though I love a good "boyfriend watch," sometimes those oversized timepieces look gaudy as hell. Not to mention, I feel like they overpower my wrist. I like how this watch has that really large face, but the thinner band tones it down.
Sunglasses: I tried these Prada beauties on at the airport Sunglass Hut a week or so ago and I can't stop thinking about them. I don't have a pair of sunnies in this light tortoiseshell, which means they're an obvious necessity. I'm like kidding but also not…
Tray: Who doesn't love a little crown motif?
Take the edge of your Monday like I did, with a little online shopping. I hope y'all had a great Halloweekend!
Emily