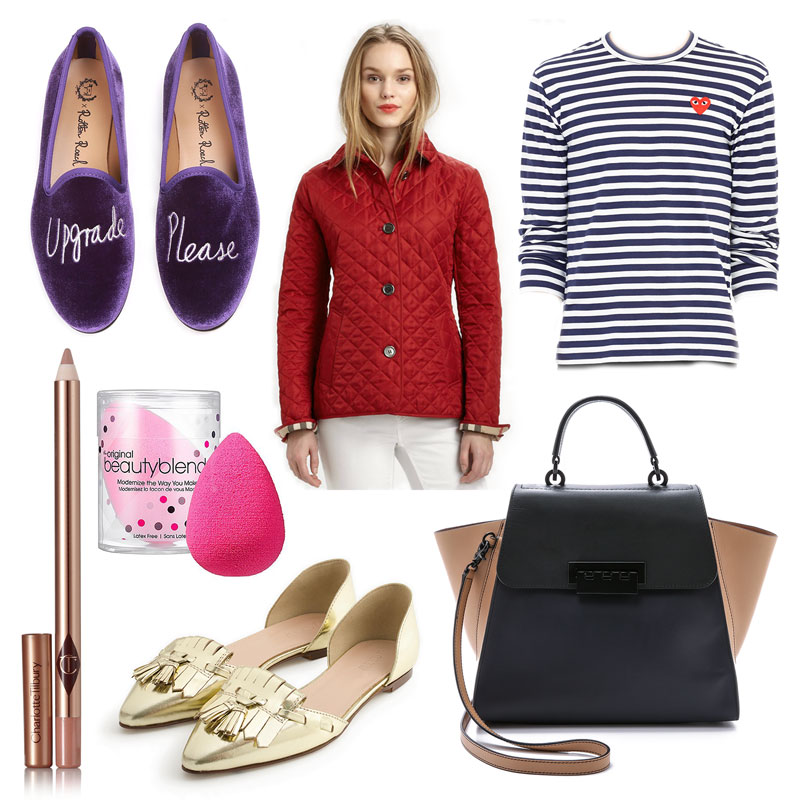 Click to Shop!
Hi babes! Back in action with another weekly wishlist, of course. Once again, fall/transitional pieces have taken over. I'll miss you, summer. It's actually been sort of chilly the past couple days and I'm getting anxiety for winter. Cue another jacket and cozy knit (men's) tee for my troubles.
I keep hearing rave reviews about the Beauty Blender and I really want to try it out for myself. Have any of y'all used one? Last night, I spent a considerable amount of time watching Youtube tutorials, so I'm pretty much an expert now (no). It's probably best I just take the plunge and order it, plus, Amazon has a nice little deal right now ($16!). I'm also in the market for a decent lip pencil. I've never worn lip liner before, but with red lipstick and my super fair skin, I can't really get away without it. Does anyone have a good recommendation? Charlotte Tilbury seems to be the "it" make-up right now, but I really have no idea what I'm doing. Not tryna look like Kylie or anything, so tell me what's up in the realm of lip pencils.
Recently, I discovered a void in my life (wardrobe) and realized a pretty, ladylike handbag was the only thing that could fill it. Seriously though, I really don't have a structured, "formal" handbag, dah-ling. When looking for a new bag, I always head towards cavernous totes or little crossbodies, but nothing in between. This Zac Zac Posen bag is what dreams are made of, seriously. It just looks so proper and expensive but it really isn't too pricey for a bag of it's size/quality. That said, it's absolutely still an investment piece. I'm also obsessed with this version, but didn't feature it above because there's only one left. Someone snap it up! Tortoiseshell heaven y'all. This similar shopper is on MAJOR sale and would be great for the office!
For fall, I'm renewing my obsession with Del Toro smoking slippers and just how…obnoxious they are? The pair above are obviously very tongue-in-cheek but I think it's fun and if anything else, a conversation piece. This pair is a tad more reserved, and who doesn't love a good emoji? Another fall fave on my radar is the classic (read: basic, I'll own it) Burberry quilted jacket. I picked one up on sale in high school and it's been on repeat ever since. So yeah, six years later, you could say I want an upgrade, please. This red delivers, so I better start saving haha.
What have you been eyeing lately? I hope you've had a great day so far, thanks for stopping by!
Emily
PS: I'll post about it soon, but…if you want a free month of Rocksbox, use my code: 10thandjamesxoxo!