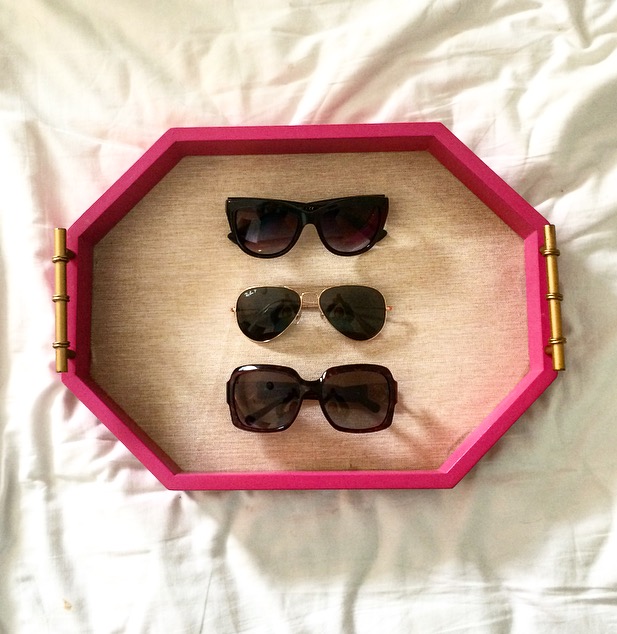 Gotta wear shades. Three types in particular: black, tort, and an aviator. Granted, I'd love a whole truckload of sunglasses, but regardless, I think it's important to have at least one pair in each category! As with all eyewear, it's crucial to find a size/shape that fits your face. I always see these petite lil ladies channeling the Olsen twins in GIANT sunglasses, practically falling off their faces! I'm all for a huge pair of sunnies, like hello, none of these pictured are exactly small, but y'all know what I mean. Definitely take the time to play around, and find the right pair for your face – bigger isn't always better in the sunglasses department. Sunglass Hut has a nice little guide here!
Black: I recently purchased these perfect incognito Dolce & Gabbana shades. Typically, cat-eye sunglasses irritate me, it's just too much of a trendy novelty. This pair, however, has just the slightest tinge of a cat-eye, plus the jet black frame and dark gradient lenses make them super serious – anything but a novelty. I throw these on for the days when I don't have make-up on and would rather die than run into someone I know (daily). That said, they look equally appropriate with a more formal, dressed up look.
Aviator: I've definitely talked about Ray-Bans before because let's face it: they're the ultimate sunglasses. My grandpa always wore the classic gold frames/green lenses and no one will ever look as cool as he did – though I definitely try. This just goes to show everyone can wear aviators, from me to my papa, and everyone else! I have this classic pair, but I'm also really warming up to the bright mirrored lenses that have been everywhere for the last few seasons. I love how an aviator sits up off your face, making them perfect for summer when your make-up is melting off half the time. Just me? Oh. These are the sunglasses I keep in my bag at all times, and they always look appropriate.
Tort: I love this pair from Tory Burch. They definitely fall into that cliche "Jackie O" category but I'm into it. Tortoiseshell just adds a little something to any outfit, and again, goes with everything. I think that might be the theme of this post, versatility. Anyway, I think the tortoiseshell is a little softer of a look than the black, for those days when you aren't necessarily hiding from anyone 😉
If you're looking to start or expand your sunglasses wardrobe, take a little inventory to see if you have all your bases covered! With a respective pair (or pairs!) in each category, you'll be ready for anything! Check out the little widget below for some more of my faves (pssst one pair is just $12)!
Emily